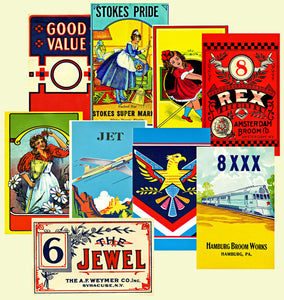 Rare Paper Detective
Vintage Label Art Stickers, 9 Pcs. Colorful Broom Labels, Great for Junk Journals, Scrapbook Pages & Altered Art, Note Book Art Sticker, 833
Regular price
$9.50
$0.00
VINTAGE BROOM LABEL STICKERS. This affordable set is priced right and features very old retro broom labels in a variety of colorful and whimsical designs. All 9 come on one 8.5 by 5.5 inch sheet. These fun sticker illustrations are excellent for altered arts, note book stickers, school book decals, planner stickers, junk journals & more. Each sticker is about 1.75" wide and 2.75" high so they make convenient accents for all your paper crafting art projects. And they are hard to find! These come on my specially sourced matte sticker paper with incredibly detailed graphics and deep rich colors. And they are weather proof!

PLEASE READ THE FULL ITEM DESCRIPTION
What makes my labels so unique and sought after? They come arranged on 1 sheet of just about the best photo quality sticker paper you can find with superb vintage color tones, crisp graphics and easy peel backing. I offer so many affordable sticker choices because I'm able to print them without expensive dies. You just cut and peel the easy to use scored backing. The POWERFUL adhesive will stick to virtually all dry surfaces and the matte stickers are weatherproof!
Visit My Etsy Store: www.etsy.com/shop/rarepaperdetective & see over 1000 items!

Here are the specifications of your sheet:
9 Images
1 Sheet
5.5 " x 8.5"
Watermark does not appear on your product
Acid Free & Archive Safe
ABOUT MY SHEETS: Each of my 8.5" x 5.5" sheets are created from very old ephemera, antique advertising catalogs and papers as well as Victorian trade cards from our huge archive. They can be used for so many different projects including: Collage Art, Journal Making, Scrapbook, Clip Art, Home Décor, Bookmarks, Card Making, Up-cycling furniture & accent pieces and so much more.
ABOUT MY IMAGES: These old images, sometimes 100+ years old, are reproduced with only minor alterations and retain their worn charm with whatever aging, creases, small tears and other natural antiquing that the originals had. The old graphics and printing styles are reproduced as well. They make for eye popping art pieces with lots of character and a historic museum vibe for your projects.
ABOUT MY STICKERS: My stickers are not die-cut so we can provide affordable stickers for all our designs. Just cut the designs out and carefully peel and stick. Matte sticker paper has scored lines on the back and gloss sticker paper does not. The quality, color and fun vibrant graphics are sure to please. You will find very few shops anywhere that can offer the variety of stickers that I offer. 
TERMS OF USE: For your personal use only. Digital downloads may be printed as many times as needed for personal use only. You may use images from our sheets as part of an item for resale in small quantities. You may not use our listing pictures for your own use. You may not share, distribute or sell our sheets or downloads in whole or in part by any means unless permission is granted.
---
More from this collection