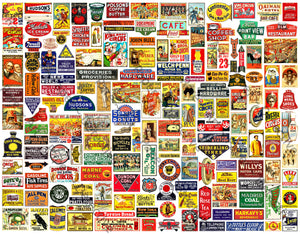 Rare Paper Detective
Model Train & Dollhouse Signs, CUT and PEEL Sticker Sheet, 165 Multi Scale Hobby Images, 1110
Regular price
$9.00
Sale price
$9.50
MODEL RAILROAD & DOLLHOUSE ADVERTISING SIGNS
165 VINTAGE SIGN STICKERS
A UNIQUE COLLECTION OF MINIATURE VINTAGE ADVERTISING SIGNS.
Authentic looking vintage signs & vintage label art with an antique look.


165 hard to find & unique miniature sign designs.

Sample image size for scale: The top row, the "Al C Barnes Circus" red sign, is about 1" wide. Some signs are duplicated on other sheets or sets but at different sizes. As always, refer to the picture for the sign selection on this sheet(s).

Crisp graphics & vibrant true-to-life colors with a vintage look and feel.

Conveniently arranged on one 8.5" x 11" sheet with simple to cut out shapes and easy peel backing for quick applications.

Each sheet is made on durable weather-proof paper with powerful adhesive backing.
Be Creative Today: Dollhouse signs. An 8.5" x 11" sticker sheet with about 165 images! This sheet requires some detailed cutting work and careful peeling of the sticker backing! But, you WON'T find this selection anywhere else. And if you don't want to use them as stickers just don't peel them. This set is designed for use on model railroad layouts, doll houses and dioramas but can be used for many other art and paper crafting projects. Roughly sized for HO scale layouts, these images are great for billboards and the sides of building such as coop elevators, factories and country stores or barns. Great for dioramas of general stores, gas stations and doll houses! Having spent many hours using 1/700 scale model ship decals and H-O rolling stock water slide decals I found these no more difficult and in a lot of ways easier. And they are unique! I hope you enjoy them.

Visit My Etsy Store: www.etsy.com/shop/rarepaperdetective & see over 1000 items!





---
More from this collection