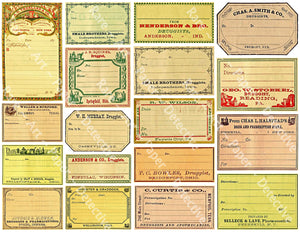 Rare Paper Detective
Blank Apothecary Label Stickers, 18 Bathroom Storage Labels, Pharmacy & Druggist Decal Set #373
Regular price
$9.50
$0.00
BLANK APOTHECARY LABEL STICKER SHEET

Set #373N
A UNIQUE COLLECTION OF AUTHENTICALLY SIZED LABELS FOR YOUR BATHROOM DECOR, STORAGE LABELS, HALLOWEEN CREATIONS & MEDICINE CABINET ACCENTS.
FREE DOMESTIC SHIPPING!

My pharmacy sticker labels capture the antique style, look & feel of an old time apothecary.

Blank labels for making your own fun prescriptions, notes or Halloween novelties. Great bathroom storage labels.

18 hard to find & unique label designs.

Crisp graphics & vibrant true-to-life colors with a vintage look and feel.

Conveniently arranged on one 8.5" x 11" sheet with simple to cut out shapes and easy peel backing for quick applications.

Each sheet is made on durable water resistant paper with powerful adhesive backing.
Be Creative Today: 16 Blank Chemist, Pharmacy, Medicine & Druggist Label Stickers. These are excellent bathroom decorations and perfect for writing your own names, sentiments & potion recipes on. Make your own Halloween novelties! They are authentically sized. Re-create old fashioned general store pill bottles for décor and gift making. This art paper features detailed graphics and deep rich colors for the very best label sticker art possible. 

Visit My Etsy Store: www.etsy.com/shop/rarepaperdetective & see over 1000 items!





---
More from this collection