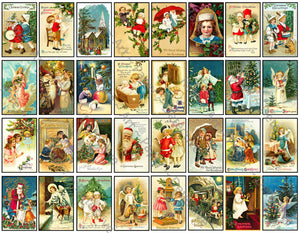 Rare Paper Detective
Christmas Greeting Card Seals, 32 Envelope Seals, Old Santa Claus Holiday Stickers & Antique Gift Tag, 908
Regular price
$9.00
Sale price
$9.50
CHRISTMAS STICKER SHEET
A UNIQUE COLLECTION OF ANTIQUE POSTCARD INSPIRED CHRISTMAS STICKER TAGS FULL OF HOLIDAY CHEER  & NOSTALGIC ILLUSTRATIONS.
Set of 32 sticker tags carefully reproduced at the popular 2" x 1.25" size. Perfect envelope & gift wrapping stickers or seals.

32 hard to find & unique postcard inspired designs.

Each nostalgic illustration depicts a different scene sure to spread some holiday joy.

Excellent for envelope seals, package stickers, note cards & more.

Crisp graphics & vibrant true-to-life colors with a vintage look and feel.

Conveniently arranged on one 8.5" x 11" sheet with simple to cut out shapes and easy peel backing for quick applications.

Each sheet is made on durable weather-proof paper with powerful adhesive backing.
CUT & PEEL STICKER SHEET. This is a printed set of Christmas greeting card and envelope seals and gift tags. These great vintage Santa Claus card reproductions feature great graphics. These 32 envelope seals add a personal touch to your gift cards and correspondents. Each image is about 2" high x 1.25" wide. Great for collage, scrapbook and gift making. Strong sticky backing. Also great for decorations. Use them to create larger art and gift projects.

Visit My Etsy Store: www.etsy.com/shop/rarepaperdetective & see over 1000 items!





---
More from this collection