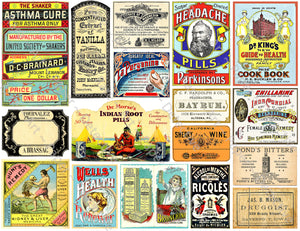 Rare Paper Detective
Colorful Medicine Cabinet Stickers, 17 Pcs Apothecary & Witches Cauldron Labels, Halloween Novelty, Props & Décor, 300R
Regular price
$9.50
$0.00
COLORFUL MEDICINE CABINET LABEL STICKERS
A UNIQUE COLLECTION OF MEDICINE CABINET APOTHECARY LABELS FOR HALLOWEEN NOVELTIES, PROPS & DECORATIONS
My apothecary stickers capture the antique style, look & feel of old fashioned medicine cabinet labels.

17 hard to find & unique sticker designs.

Perfect for creating Halloween decorations, novelties, props & party décor.

A variety of poison, potions, elixirs & tonics to capture an old drug store or spooky witches medicine cabinet theme.

Crisp graphics & vibrant true-to-life colors with a vintage look and feel.

Each sheet is made on durable weather-proof matte sticker photo paper with powerful adhesive backing.

Conveniently arranged on one (1) 8.5" x 11" sheet with simple to cut out shapes and easy peel backing for quick applications.
Be Creative Today: Halloween Stickers. The Witches Cauldron Potion Label Set! Halloween Poison Apothecary Bottle Labels. Great for Halloween! This is a colorful sheet of unique labels featuring old time general store apothecary, poison and druggist labels. These vibrant label reproductions will make your next paper craft or home décor project pop with eye appeal. They are ready for you to make your own apothecary bottles, jars, tins and boxes. They are conveniently printed on our carefully sourced and excellent quality sticker papers. You get these on my amazing matte sticker paper. Just cut and peel! The powerful adhesive backing will stick to virtually any dry surface. They all have that vibe of an old fashioned pharmacy. They have been reproduced with all the age and character of the originals giving my labels a naturally antiqued and weathered look. This set has a fascinating selection of labels featuring lotions, potions, pills and powders.
---
More from this collection