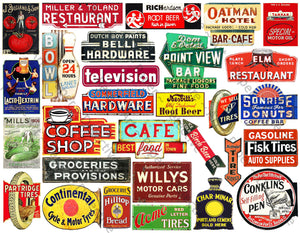 Rare Paper Detective
Vintage Style Sign Stickers & General Store Advertising Signs for Dollhouse or Model Railroad Diorama Miniatures, Cut and PEEL Sheet, 1095
Regular price
$9.50
$0.00
MODEL RAILROAD & DOLLHOUSE ADVERTISING SIGNS
29 VINTAGE SIGN STICKERS
A UNIQUE COLLECTION OF MINIATURE VINTAGE ADVERTISING SIGNS.
Authentic looking vintage signs & vintage label art with an antique look.


29 hard to find & unique miniature sign designs.

Crisp graphics & vibrant true-to-life colors with a vintage look and feel.

Conveniently arranged on one 8.5" x 11" sheet with simple to cut out shapes and easy peel backing for quick applications.

Each sheet is made on durable weather-proof paper with powerful adhesive backing.
Be Creative Today: This is a unique 29 piece miniature sign sticker sheet done on my matte sticker paper. Conveniently sized for doll houses, large scale model railroad & diorama building projects. These neat vintage style stickers can be used in junk journals and collage projects. My easy to use & ready-to-cut out images have crisp graphics and deep rich colors with a vintage style, look & feel. Each sheet sports easy peel backing and are weather proof.

Visit My Etsy Store: www.etsy.com/shop/rarepaperdetective & see over 1000 items!





---
More from this collection